COMPLIMENTARY U.S. SHIPPING ON ORDERS $150+
Hyaluronic Acid Night C-Complex


Hyaluronic Acid Night C-Complex
Anti-wrinkles, pro-collagen
Dr. Cat's favorite product - is a fabulous "Fountain of Youth" in a custom-crafted glass jar. Low molecular weight Hyaluronic Acid is extremely hydrating and very rare - Dr. Cat had to hunt for this raw material for years. Because of its accurate molecular size - it actually penetrates the skin and works its magic in-depth, not just sits on top of it like most Hyaluronic Acid products on the market.
Dr. Cat added "everything that she ever wanted in a NIGHT moisturizer" including vitamins A, B, C, and E to firm, smooth, soften, and promote complexion-plumping collagen. Glow-getting glycolic acid refines and renews texture for a bright, beautiful, luminous complexion. Low molecular weight hyaluronic acid deeply penetrates the skin to significantly hydrate and heal the skin for a firm, more rejuvenated appearance. Exquisitely rich and undeniably luxurious, this sumptuous night cream is a dream-come-true essential for your beauty sleep.
This product is good for ages 20-65+.
Why people love our shop
60-day money back guarantee
Free shipping
Free & easy return
Same-day processing
After cleansing with your Deep Pore Foaming Cleanser and/or exfoliating with your Exfoliating Enzyme Scrub, gently massage a small amount to face, neck, chest, and backs of hands before bedtime. You may experience a slight tingling sensation, but don't worry! That's just the glycolic acid working its nighttime magic to restore and rejuvenate your skin to youthful, plump perfection. Sweet dreams.
Purified Water, Glycolic Acid, PEG – 100 Stearate, Glyceryl Stearate, Glycerin, Cetyl Alcohol, Stearic Acid, C12-15 Alkyl Benzoate, Ethylhexyl Palmitate, Cyclomethicone, Sodium Hyaluronate (Hyaluronic Acid), Dimethicone, Lactic Acid, Hydrolyzed Wheat Protein, Vitis Vinifera (Grape) Seed Oil,Tocopheryl Acetate (Vitamin E), Ascorbic Acid (Vitamin C), *CO Glycerin, *CO Rosmarinus Officinalis (Rosemary) Leaf Extract, *CO Rosa Centifolia Flower Extract, *CO Aesculus Hippocastanum (Horse Chestnut) Seed Extract, *CO Prunus Armeniaca (Apricot) Fruit Extract, Malus Domestica (Apple) Fruit Cell Culture Extract, Citric Acid, Malic Acid, Gluconic Acid, Salicylic Acid, Tartaric Acid, Sodium Hydroxide,**Squalane, Xanthan Gum, Disodium EDTA, Phenoxyethanol, Ethylhexylglycerin, Fragrance. *Certified Organic ** From Sugarcane
Heal and hydrate tired skin.
Evens out complexion and firms skin.
Reduce fine lines and wrinkles.
Daily skin protection and health pigmentation.
Protects against moisture loss during the reparative night shift.
Use pads of your 4th and 5th fingertips to gently massage product into skin.
Slip satin/silk cases over your pillows to prevent this luscious dream cream from escaping from your complexion throughout the night.
Always conduct a small patch test on the inside of the forearm to determine there are no sensitivities or allergic reactions to the product.
When used in conjunction with your MD Retinol-C Intense Night Cream, delivers the ultimate one-two punch against aging, rough texture, hyperpigmentation, and dryness.
Remember, your skin doesn't end at your neck. Keep massaging product past your jawline, onto your neck and chest. Chest and neck are also culprits for revealing the first signs of aging, so don't forget to take care of these areas as well!
Avoid contact with eyes. If product gets into the eyes, rinse thoroughly. With all products, we recommend testing the product on a small patch of forearm skin to make sure there are no allergies or sensitivities prior to using it on the face.
Oily, dry, combination, and sensitive skin. Solution for dryness, fine lines, dullness, uneven texture, daily skin protection and health, loss of firmness, loss of elasticity
How MD Glam Works
Combining Vitamin C and Retinol in their effective molecular forms while maintaining stability for a synergistic result is extremely difficult. Retinol and super antioxidant Vitamin C synergistically work together to combat fine lines, wrinkles, puffiness, and dark circles. This product took over 12 months to develop until Dr. Cat was fully satisfied with the final results.
Brightens and tightens the delicate tissue surrounding susceptible eye area for a more refreshed, revitalized appearance.
Non-greasy formula instantly absorbs into skin leaving a smooth, silky, flawless finish.
Two skincare power players that "play well together," vitamin C and retinol have been clinically proven to synergistically plump, perfect, and protect the skin, while supercharging each's efficacy.
Solution for:
Dryness
Fine lines
Loss of firmness
Daily skin protectin and health
Dullness and uneven texture
Loss of elasticity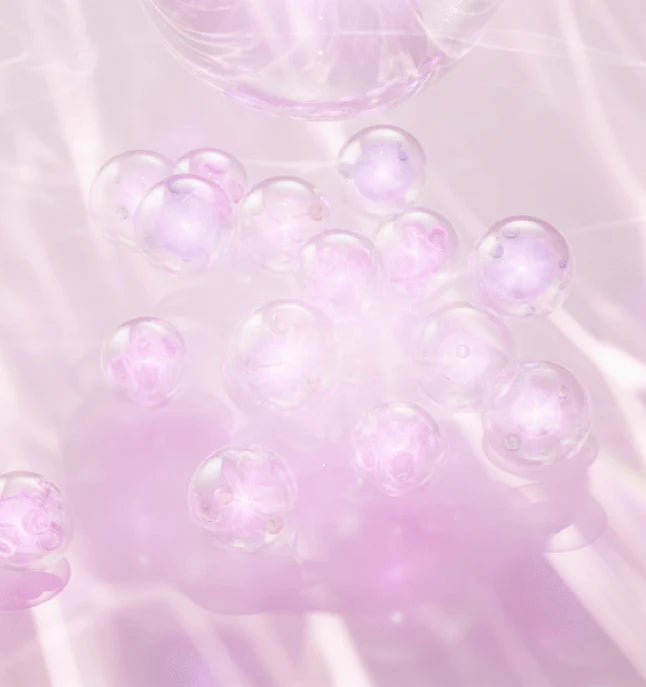 Why is Hyaluronic Acid Important for the Anti-Aging Process?
Dryness and loss of skin moisture contributes to aging. Hyaluronic acid improves skin elasticity and reduces the depth of wrinkles. However, the standard hyaluronic acid found in most products on the market is too large to actually penetrate the skin and just sits on top of it.
MD GLAM contains low molecular weight hyaluronic acid, a small particle size, that can actually penetrate the skin and be effective. This ingredient is extremely rare and took months for Dr. Cat to source.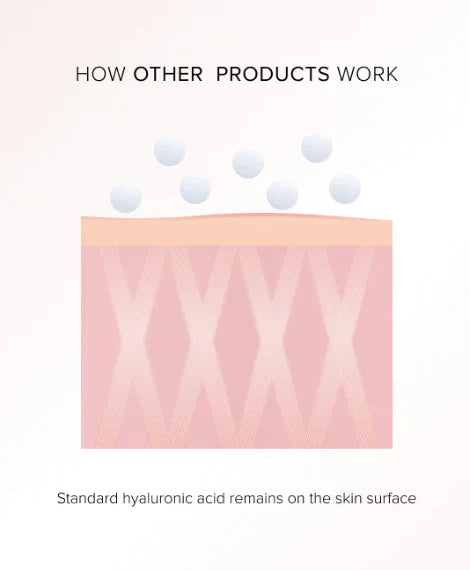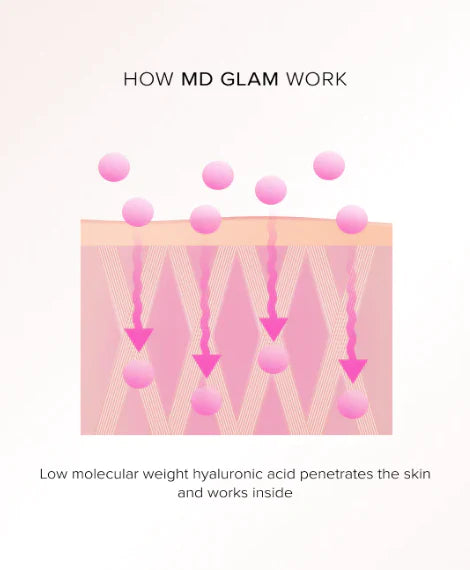 Suitable for Ages 20-65+
Before & after photos by real MD GLAM users. Results may vary.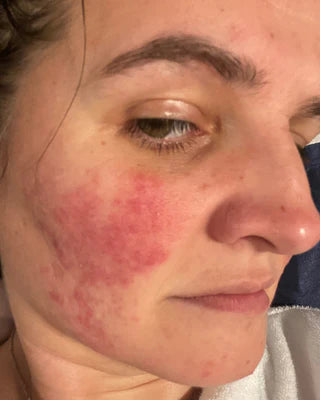 Before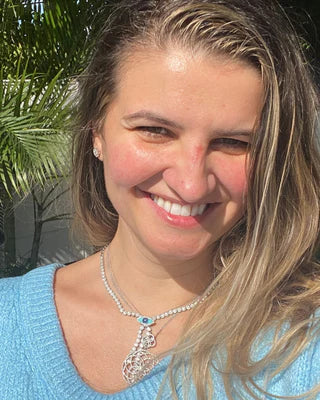 Now
Nikoleta A.
What are your skin concerns?
Uneven skin tone, Rosacea
 "I have been using MD glam for over 3 years. I do suffer from rosacea, therefore I have to be very careful with the products that I apply in my face. MD glam products are amazing. I always had issues with other sunscreens but not the MD glam. I apply it daily and it keeps my face calm and protected. There are no bumps and my face doesn't get irritated."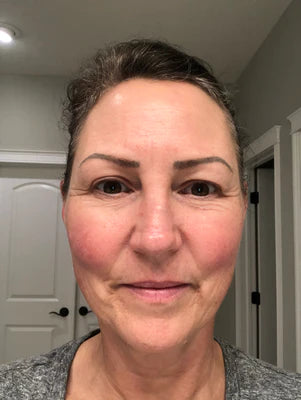 Before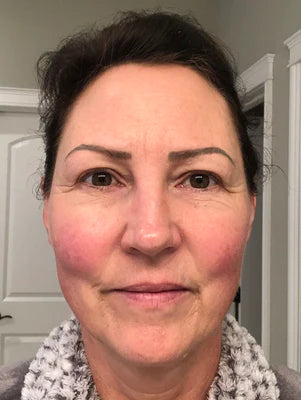 Now
Amy B.
What are your skin concerns?
Loss of firmness and elasticity
"Purchased the anti-aging kit. Loved the Exfoliating Enzyme Scrub, it smells amazing and leaves your skin smooth and soft. Gentle to use twice a week. I've used all the products for 60 days and can see a change in firmness around my mouth and eyes."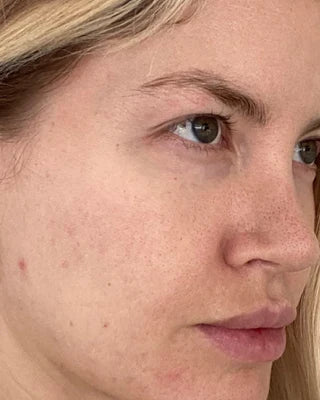 Before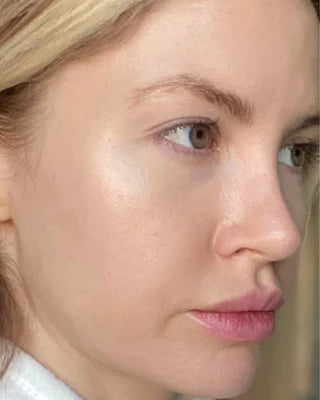 Now
Kaleigh M.
What are your skin concerns?
Pores, uneven skin tone
 "I didn't realize how visible my pores and red uneven skin tone were getting because usually I'd wear foundation or a filter and it would be covered. Since using MD GLAM Anti-Aging Kit my pores aren't apparent, the redness has gone and my skin looks more youthful and glowing!"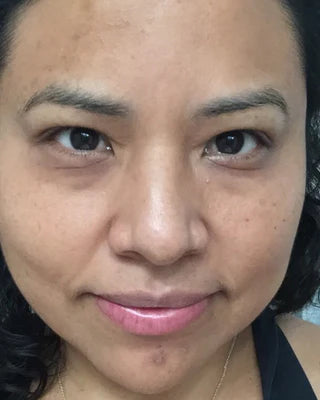 Before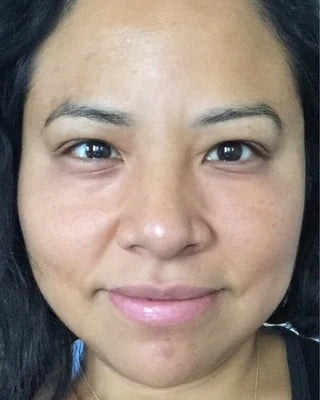 Now
Lupe O.
What are your skin concerns?
Fine lines & wrinkles, Pores
"I have been using MD glam daily since October 20, 2017. The difference was obvious 7 days after which I documented in a photo. I began with the daily day and night cream and pore foaming cleanser and the scrub twice a week  I then added the sunscreen and eye serum. I will be 48 in a few days and couldn't be more proud of my skin."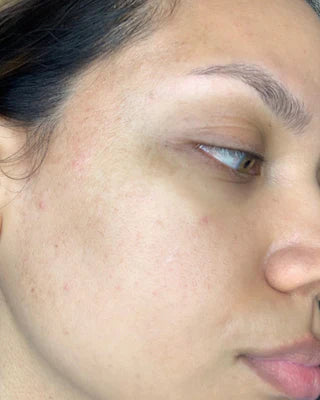 Before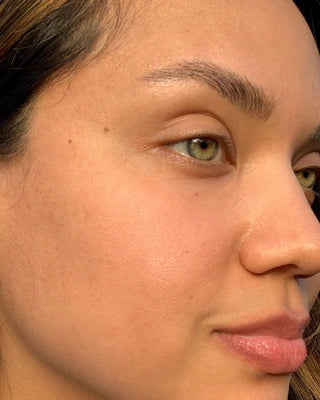 Now
Ester T.
What are your skin concerns?
Dullness & Dehydration
"My skin has been feeling it from all of the traveling and movies I filmed this year, so I tried two weeks of using it and my skin feels so soft and hydrated. This kit was exactly what my skin needed!"
Our Promise
Risk free
Money back guarantee
free shipping
Award winning customer service
Quality, Luxury, Simplicity
"I know you'll love MD GLAM as much as I do, but if for any reason you're not completely satisfied, just return the containers within 60 days of receipt, and you'll get a full refund of the purchase price (minus shipping and handling)."
Dr. Cat
(Board-Certified Plastic Surgeon, Founder of MD GLAM)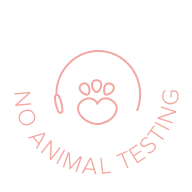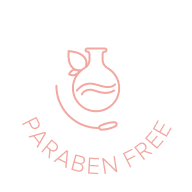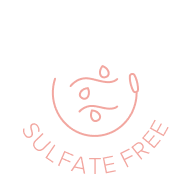 Skin concerns:
Combination
Skin:
Fine Lines & Wrinkles, Dark Spots
Love it!
I've been using MDGLAM for more than a year and my complexion has improved. It feels nourished and brighter!
Dear Lysa,
We're thrilled to hear about your positive experience with MDGLAM! It's fantastic to know that our products have contributed to the health and glow of your skin. We truly appreciate your feedback and look forward to continuing to serve your skincare needs. Thank you!
Best,
Team MD GLAM
Skin:
Fine Lines & Wrinkles, Uneven skin tone, Dark Spots, Pores
Night cream
Love the product with only one small issue. The jar arrive not completely full. Product must have had an air bubble and settled leaving a whole in middle of cream.
Dear Lori,
Thank you for your feedback. We're thrilled to hear that you're enjoying our night cream. We apologize for the issue with the jar not being completely full. We take quality control very seriously and will address this with our production team. We appreciate your understanding and patience. Thank you for your support.
Best regards,
Team MD GLAM
Skin concerns:
Normal, Dry
Great night cream!
I love all MD Glam products and always give 5 stars. For this I am giving 4 stars only because I don't care for the scent of the product. It's not heavily scented at all, just whatever it smells like I don't care for. Don't let that deter you…I highly recommend this cream. It is super hydrating and my face feels amazing in the morning! The best thing about all MD Glam products is they never make my skin break out which is always a huge concern. I wish I had thought to use this product so much sooner!
Thank you for taking the time to review our product! We are glad that you have had a positive overall experience with our MD Glam products and appreciate your honest feedback regarding the scent. We apologize for not meeting your needs in this regard, and understand that sometimes a fresh and light scent can be an important factor when it comes to skin care. We value your loyalty and satisfaction as a customer, and welcome any further feedback or suggestions you may have. Thank you again for your continued support!
This night cream is hydrating and feels good on the skin.
LOVE this product. Results in just one day. It works without drying out my skin and it takes just a very small amount to be effective. So happy I bought this product!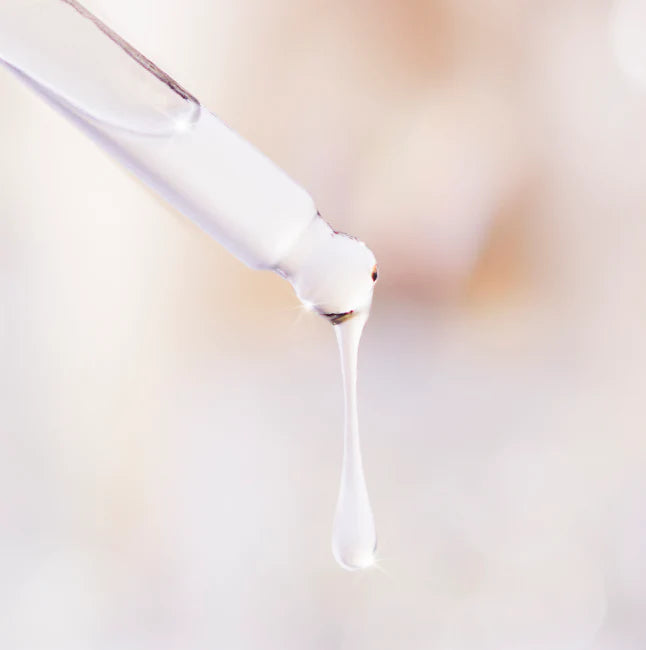 Good to Know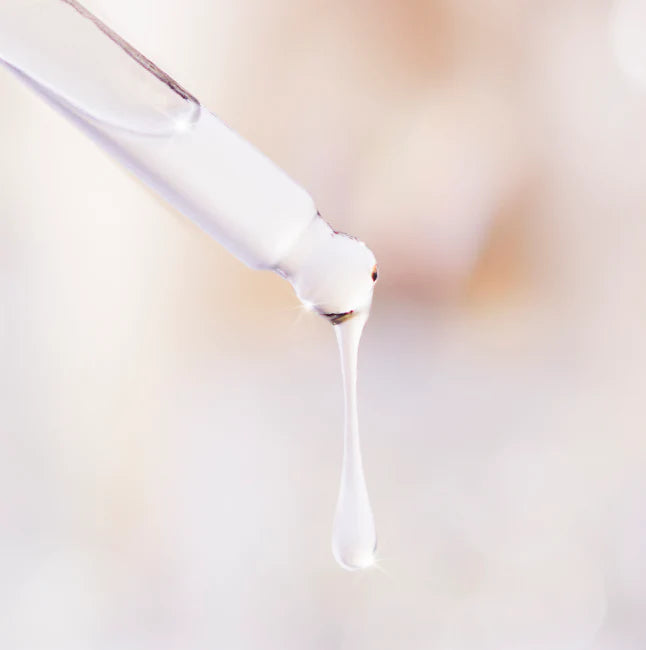 Combining Vitamin C and retinol in their effective molecular forms while maintaining stability for a synergistic result is extremely difficult. This product took over 12 months to develop until Dr. Cat was fully satisfied with the final results.
ANTI-WRINKLES
Hyaluronic Acid Night C-Complex
Target fine lines and wrinkles with Dr. Cat's highly-concentrated night cream. Protects against moisture loss during the repairative night shift.
FIRMNESS AND HYDRATION
DMAE Antioxidant Day Moisturizer
Lock in moisture and counter free radicals from UV exposure and other toxins in the environment with our antioxidant packed day cream.
ADVANCED FORMULA
5-Step System
Boost collagen, fade dark spots, diminish fine lines & wrinkles, and undo signs of aging with Dr. Cat's exclusive skincare technology.
view all