COMPLIMENTARY U.S. SHIPPING ON ORDERS $150+
Deep Pore Foaming Cleanser


Deep Pore Foaming Cleanser
Cleanse Away Dirt & Impurities
Clean away all your stress and the busyness of the day with this gentle yet powerful Deep Pore Foaming Cleanser packed with pore-purifying ingredients and rich moisturizing agents designed to leave your skin beautifully balanced, clean, and clear. Vitamins A, B, and E deliver a daily dose of anti-aging effects every time you visit the sink, while versatile vitamin C helps boost brightness and collagen production. Minerals from the Dead Sea deeply moisturize and hydrate the complexion for a refreshing and smooth feel post-cleanse.
The luxurious, fresh, foaming lather soothes and softens without stripping skin of its vital moisture, leaving your skin feeling soft, supple, and clean. You can't help but say "aaaaahhhh" when using this extraordinary cleanser. Yes, it's that good. This product is good for ages 20-65+.
Why people love our shop
60-day money back guarantee
Free shipping
Free & easy return
Same-day processing
Dampen face with warm water and apply a dime-sized amount of product to skin. Using gentle, circular motions, massage your Deep Pore Foaming Cleanser over entire face and neck, working up to a rich, creamy lather to stimulate the senses. Rinse well and pat skin dry with a clean towel. At night follow with your Exfoliating Enzyme Scrub, if desired for extra exfoliation. You can also follow with our Retinol-C Eye Serum or Hyaluronic Acid Night C-Complex.
Purified Water, Sodium Cocoyl Isethionate, Stearic Acid, Sodium C14-16 Olefin Sulfonate, Glycerin, Polyquaternium-7, PEG-7 Glyceryl Cocoate, Glyceryl Stearate, Glyceryl Stearate SE, Ascorbic Acid (Vitamin C), Tocopheryl Acetate (Vitamin E), *CO Glycerin, *CO Lavandula Angustifolia (Lavender) Flower/Leaf/Stem Extract, *CO Citrus Limon (Lemon) Peel Extract, *CO Camellia Sinensis (Japanese Green Tea) Leaf Extract, *CO Pyrus Malus (Apple) Fruit Extract, *CO Chamomilla Recutita (Chamomile) Flower Extract, *CO Spirulina Maxima (Sea Algae) Extract,*CO Humulus Lupulus (Hops) Extract, *CO Cucumis Sativus (Cucumber) Fruit Extract, *CO Calendula Officinalis (Marigold) Flower Extract, Aloe Barbadensis Leaf Extract, Ubiquinone, Thioctic Acid, Panthenol, Guar Hydroxypropyltrimonium Chloride, Hydroxyethylcellulose, Disodium EDTA, Sodium Hydroxide, Ehtylhexylglycerin, Phenoxyethanol, Fragrance. *Certified Organic
Brightens complexion and hydrates skin.
Helps boosts collagen production and repairs damaged skin barrier.
Clarifies pores and prevents sensitivity and irritation.
Deep pore cleansing action eliminates the need for a "double cleansing" routine.
Melts away makeup and excess sebum and washes away dirt and debris.
Don't take your cleanser for granted. For people with sensitive skin, the cleanser is super important and often the cause of sensitivity and irritation. Many cleansers over-strip skin of natural protective oils leaving it raw and irritated.
Can be used day or night before all your favorite MD GLAM go-to's.
Always perform a patch test on the surface of the inner forearm to ensure you are free of allergic reactions.
Because Dr. Cat spends hours with her face under a surgical mask causing a buildup of sweat, makeup, and residue in her pores, she formulated this extraordinary cleanser to clarify her skin and pores under these extreme daily conditions.
If you have sensitive skin, we highly recommend this cleanser. This product is also great for pores. Large pores are created from a buildup of oil and dead skin cells that get trapped in the pore.
Avoid contact with eyes. If the product gets into the eyes, rinse thoroughly. With all products, we recommend testing the product on a small patch of forearm skin to make sure there are no allergies or sensitivities prior to using it on the face.
Oily, dry, combination, and sensitive skin. Solution for dryness, oiliness, dullness, and uneven texture, daily skin protection and health, loss of firmness, loss of elasticity.
How MD Glam Works
Combining Vitamin C and Retinol in their effective molecular forms while maintaining stability for a synergistic result is extremely difficult. Retinol and super antioxidant Vitamin C synergistically work together to combat fine lines, wrinkles, puffiness, and dark circles. This product took over 12 months to develop until Dr. Cat was fully satisfied with the final results.
Brightens and tightens the delicate tissue surrounding susceptible eye area for a more refreshed, revitalized appearance.
Non-greasy formula instantly absorbs into skin leaving a smooth, silky, flawless finish.
Two skincare power players that "play well together," vitamin C and retinol have been clinically proven to synergistically plump, perfect, and protect the skin, while supercharging each's efficacy.
Solution for:
Dryness
Fine lines
Loss of firmness
Daily skin protectin and health
Dullness and uneven texture
Loss of elasticity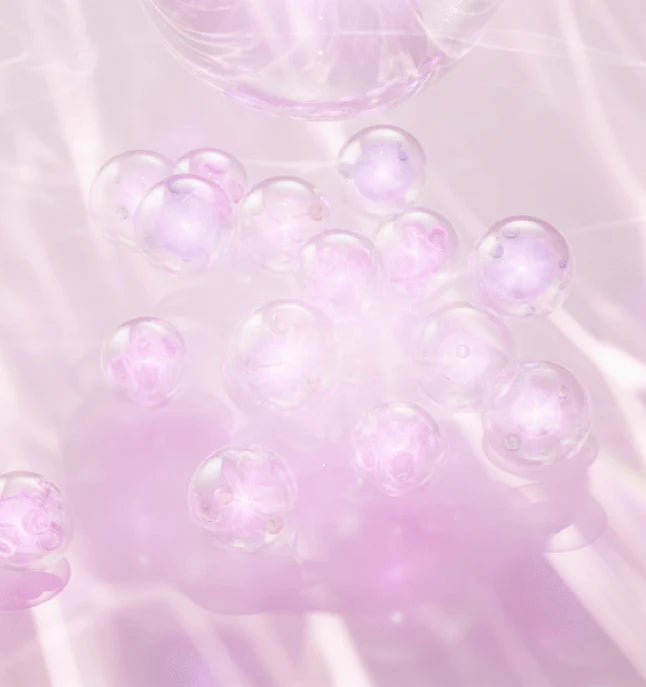 Why is Hyaluronic Acid Important for the Anti-Aging Process?
Dryness and loss of skin moisture contributes to aging. Hyaluronic acid improves skin elasticity and reduces the depth of wrinkles. However, the standard hyaluronic acid found in most products on the market is too large to actually penetrate the skin and just sits on top of it.
MD GLAM contains low molecular weight hyaluronic acid, a small particle size, that can actually penetrate the skin and be effective. This ingredient is extremely rare and took months for Dr. Cat to source.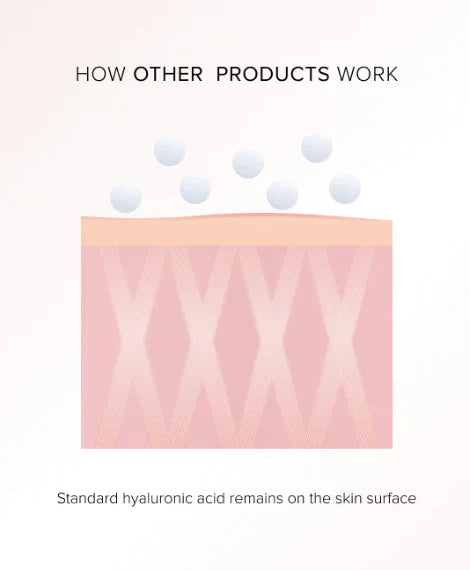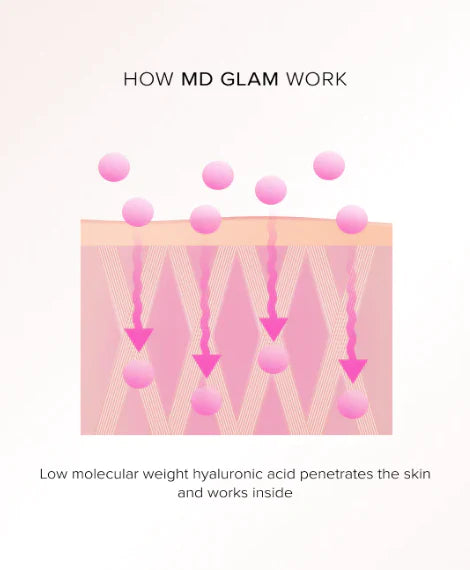 Suitable for Ages 20-65+
Before & after photos by real MD GLAM users. Results may vary.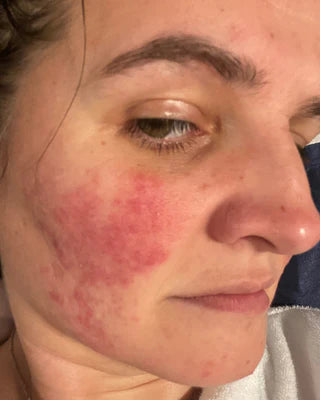 Before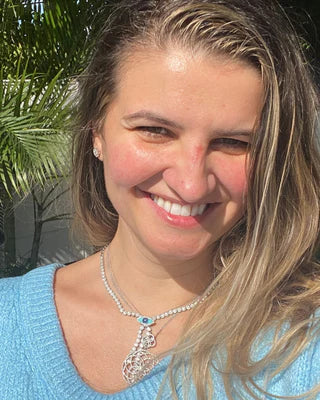 Now
Nikoleta A.
What are your skin concerns?
Uneven skin tone, Rosacea
 "I have been using MD glam for over 3 years. I do suffer from rosacea, therefore I have to be very careful with the products that I apply in my face. MD glam products are amazing. I always had issues with other sunscreens but not the MD glam. I apply it daily and it keeps my face calm and protected. There are no bumps and my face doesn't get irritated."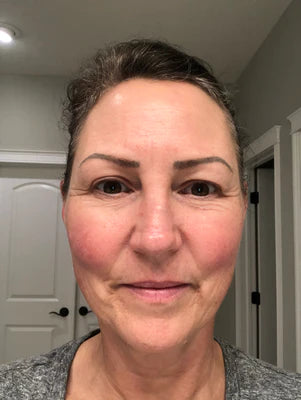 Before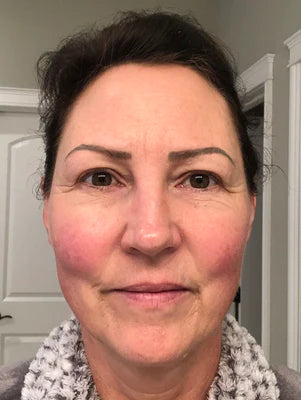 Now
Amy B.
What are your skin concerns?
Loss of firmness and elasticity
"Purchased the anti-aging kit. Loved the Exfoliating Enzyme Scrub, it smells amazing and leaves your skin smooth and soft. Gentle to use twice a week. I've used all the products for 60 days and can see a change in firmness around my mouth and eyes."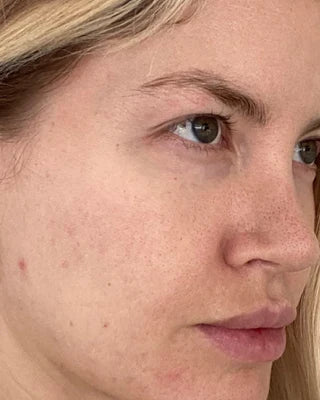 Before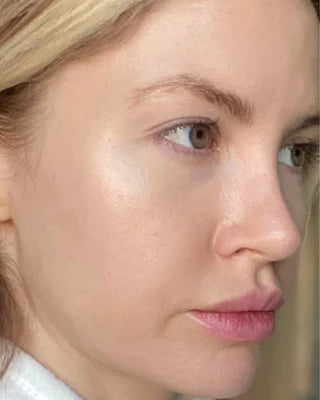 Now
Kaleigh M.
What are your skin concerns?
Pores, uneven skin tone
 "I didn't realize how visible my pores and red uneven skin tone were getting because usually I'd wear foundation or a filter and it would be covered. Since using MD GLAM Anti-Aging Kit my pores aren't apparent, the redness has gone and my skin looks more youthful and glowing!"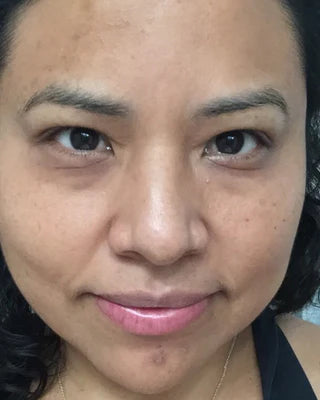 Before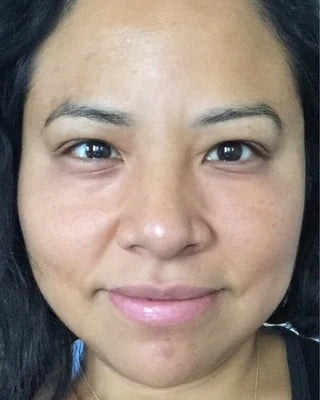 Now
Lupe O.
What are your skin concerns?
Fine lines & wrinkles, Pores
"I have been using MD glam daily since October 20, 2017. The difference was obvious 7 days after which I documented in a photo. I began with the daily day and night cream and pore foaming cleanser and the scrub twice a week  I then added the sunscreen and eye serum. I will be 48 in a few days and couldn't be more proud of my skin."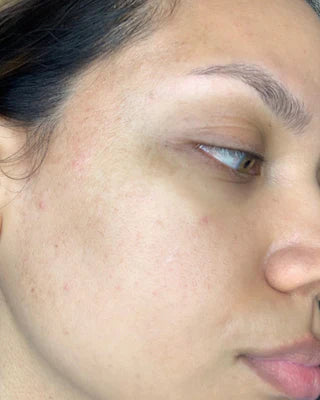 Before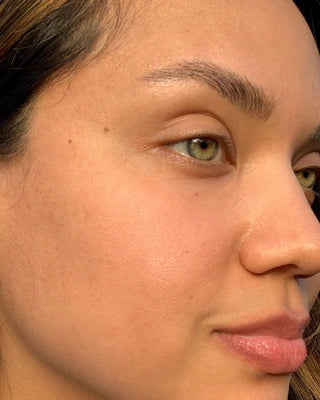 Now
Ester T.
What are your skin concerns?
Dullness & Dehydration
"My skin has been feeling it from all of the traveling and movies I filmed this year, so I tried two weeks of using it and my skin feels so soft and hydrated. This kit was exactly what my skin needed!"
Our Promise
Risk free
Money back guarantee
free shipping
Award winning customer service
Quality, Luxury, Simplicity
"I know you'll love MD GLAM as much as I do, but if for any reason you're not completely satisfied, just return the containers within 60 days of receipt, and you'll get a full refund of the purchase price (minus shipping and handling)."
Dr. Cat
(Board-Certified Plastic Surgeon, Founder of MD GLAM)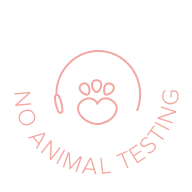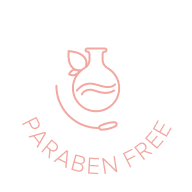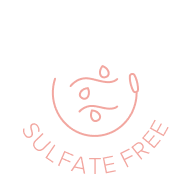 Best cleanser
I've been using MD Glam products for about 5 years. The cleanser Is one of my favorite. Leaves my skin feeling clean and doesn't dry it out. I get compliments on my skin often and I believe it's these products that help me.
Skin concerns:
Combination
Skin:
Fine Lines & Wrinkles, Uneven skin tone
So easy to use Deep Pore Foaming Cleanser
I love the way MDGlam cleanser makes my skin feel, so very soft and clean.
Dear Susan,
Thank you for sharing your wonderful experience with our MDGlam Deep Pore Foaming Cleanser! We're thrilled to hear about the positive impact it's had on your skin. We're here for you if you need any further assistance.
Best,
Team MD GLAM
I love this cleanser! Leaves my skin feeling so smooth and soft.:
It's my favorite daily face wash, my 12 year old enjoys using it too!
I finally found a cleanser that removes makeup and cleans out my pores!! I feel like in the past I could never find a product that can do both, but this product does it all! It somehow clears out pores without the feeling of my skin being stripped. I keep this cleanser in my shower and I use it in the morning and night! Let's just say my skin has never been so clear. I love it!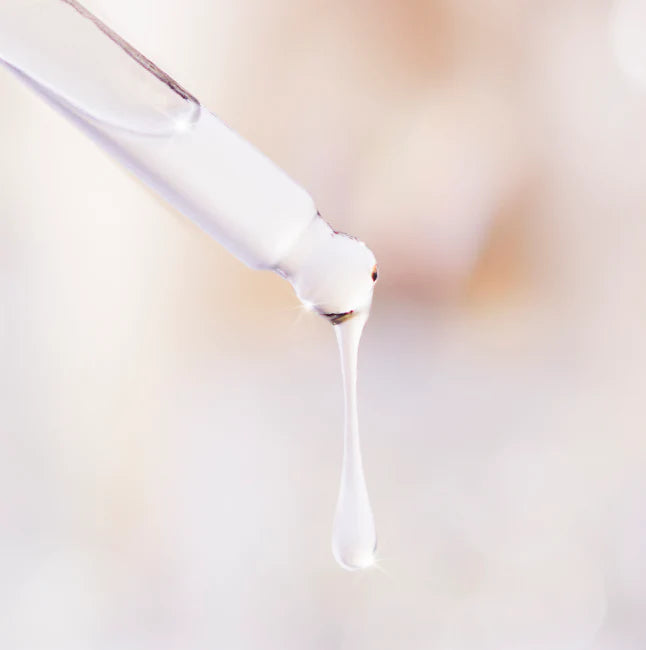 Good to Know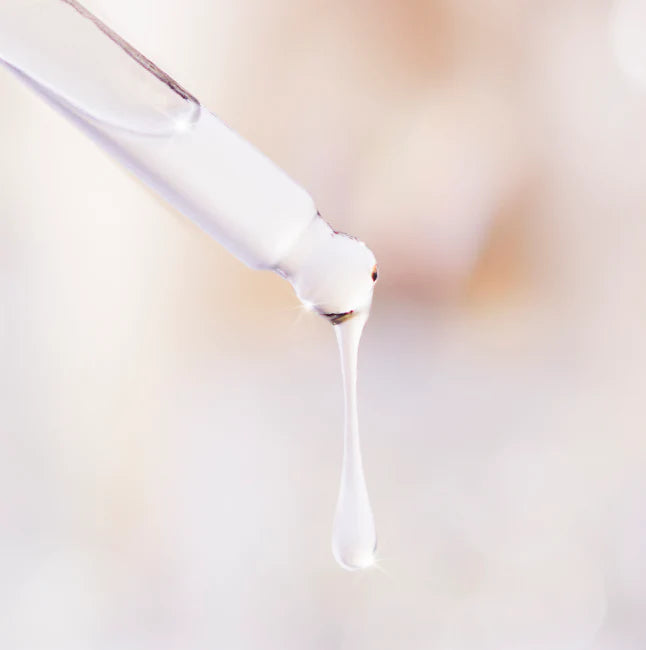 Combining Vitamin C and retinol in their effective molecular forms while maintaining stability for a synergistic result is extremely difficult. This product took over 12 months to develop until Dr. Cat was fully satisfied with the final results.
ANTI-WRINKLES
Hyaluronic Acid Night C-Complex
Target fine lines and wrinkles with Dr. Cat's highly-concentrated night cream. Protects against moisture loss during the repairative night shift.
FIRMNESS AND HYDRATION
DMAE Antioxidant Day Moisturizer
Lock in moisture and counter free radicals from UV exposure and other toxins in the environment with our antioxidant packed day cream.
ADVANCED FORMULA
5-Step System
Boost collagen, fade dark spots, diminish fine lines & wrinkles, and undo signs of aging with Dr. Cat's exclusive skincare technology.
view all